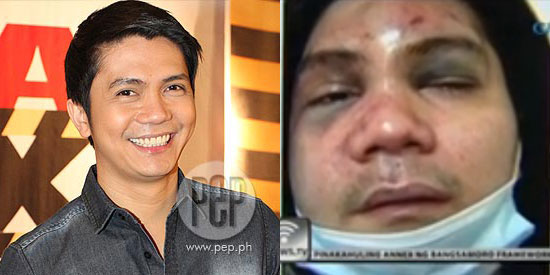 Vhong Navarro before and after the brutal attack
image source: PEP.ph

There are rumors about Vhong Navarro being dead or in a critical condition right now but according to The Buzz, NO, this is just a hoax but Vhong is currently in the hospital trying to recover after the brutal attack that happened to him last Wednesday, January 22 2014.
Flash Report: Vhong Navarro is now facing a police report about an attempted rape to a 22- year old student. There is a filed blotter with Vhong's signature but the true identity of the student is still unknown.
GMA News verified that Vhong Navarro went to the condo of the girl victim along with her friends.
According to the complainant, the 22 year old student was shocked when she saw Vhong entered her condo unit and tried to rape her. He actually pulled her into her room and tried to take off her shorts. During that moment, someone heard what is happening and hurriedly called the police for a complaint.
GMA News got the copy of a police blotter of what happened and still working on it.
But ABS-CBN's side is denying the police blotter that is surfacing the web right now.
As of the moment, there is no clear fact about the incident.
Stay tuned for more news about this. If you can see the cctv actual footage of the brutal attack, let us know! Post it below so we can see it!